One Direction fans went crazy this morning as it was suggested that a tweet that Louis Tomlinson had sent to Harry Styles declaring his love for the curly haired cutie a couple of years ago was deleted by their management.
Harry and Louis have previously been surrounded by romance rumours, with Directioners even calling them 'Larry Stylinson' and writing extremely erotic fan fiction about them.
With the boys getting a little annoyed when the dating questions were brought up in interviews, management seemingly took action earlier today after Louis took to Twitter to allegedly post: "Always in my heart @Harry_Styles. Yours sincerely, Louis."
Why they deleted this tweet? WHY? @Louis_Tomlinson @Harry_Styles pic.twitter.com/BdIxdxBgkv

— 3deMayo!?WWAT (@Sofii_Maldonado) March 25, 2014
Fans were quick to grab a screengrab of the message, with it gathering over 255,000 re-tweets and 138,000 favourites before it was deleted.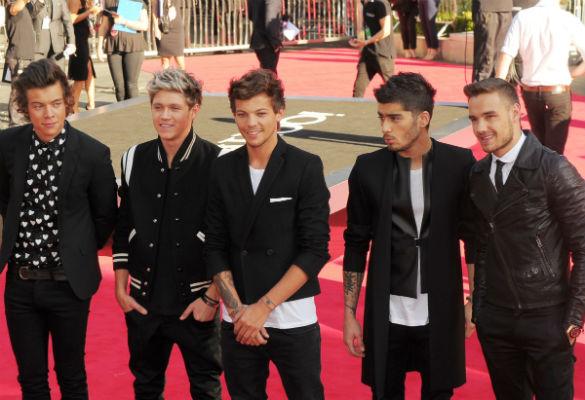 1D fans have been left annoyed after management allegedly deleted the boy's tweets (WENN
Despite nothing being confirmed, fans have suggested that it may have been the management that removed the post, not wanting the "relationship" between the boys to be brought up again.
However, Directioners still managed to keep the hashtag #HarryYouAreStillInLouisHeart trending for hours on the social networking site, with many reminiscing about key moments in their bromance, sharing snaps and soppy messages.
One fan posted: "Aren't they lovely? Aren't they wonderful? #harryyouarestillinlouisheart" with another adding: "this is love and that will never change #harryyouarestillinlouisheart"
One shared: "#harryyouarestillinlouisheart whos emotional im emotional" with one adding: "#HarryYouAreStillInLouisHeart I miss all the larry moments"
However, some of the messages from fans showed they were not happy with the boy's management, with one sharing: "I love how management thinks our fandom is stupid when in reality we're smarter than all of them combined. #HarryYouAreStillInLouisHeart" with another adding: "delete tweets, delete whatever you want. but you can never remove faith in them #HarryYouAreStillInLouisHeart" (sic)
- Advertisement -