It might only be one day before the final but the celebs in the Big Brother house aren't showing any signs of slowing down as we countdown tonight's top five moments.
Tonight's episode was full of yet more drama and high jinks, we've got Last Chance Saloons and Dappy's secret rapping mission. Meanwhile Ollie Locke claims he has "turned" Dappy and glamour model Casey Batchelor is STILL on about Lee Ryan.
The celebrities are probably picking out their eviction outfits right now in anticipation for tomorrow night's finale, however that hasn't stopped the drama. So, without further ado, let's have a look at the top five moments.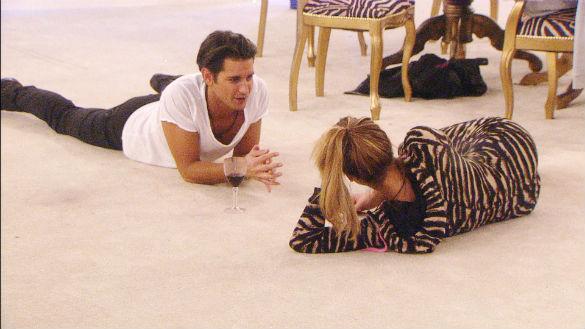 Ollie and Sam have a heart-to-heart after baking some bread (Channel 5)

1. Ollie Locke and Sam Faiers – match made in reality TV heaven
After the picket fence task, both Ollie and Sam have really come out of their shells. The are-they-aren't-they love birds have been getting closer (just a coincidence that the series is nearly over we hear you cry? How cynical of you!) spending plenty of time together in tonight's ep. Ollie was certainly on top form trying to woo the Essex beauty. Their day began with making some bread in the shape of a penis. Lovely.
Naturally, this led to a conversation about the different, ahem, anatomies of the male and female forms:
Sam: "It actually feels like a willy when you hold it like that. I haven't seen a willy in ages, strange looking things."
Ollie: "As if vaginas look completely normal."
Sam: "Vaginas are lovely, pretty."
Ollie: "I've got a really good looking willy."
Cheeky Sam then joked back: "Prove it."
However, unlike Dappy, Ollie refrained from show casing his goods. Phew!
2. Casey Bachelor still licking her wounds
Lee Ryan might have been evicted on Sunday night's episode, but member number two in the Blue boybander's love triangle, Casey is obviously still coming to terms with her on-off manfriend. However, the Page 3 model, who has been nicknamed a 'bunny boiler' by former housemate and member number three in the love triangle Jasmine Waltz, is clearly not happy with Mr Ryan.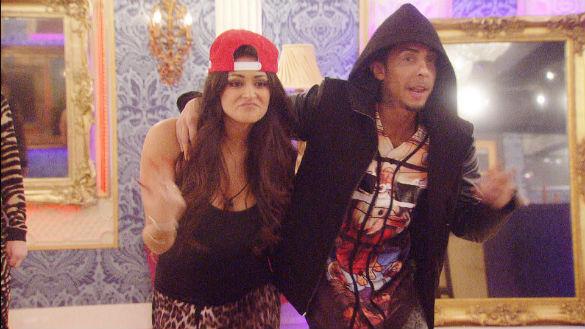 How times have changed. Casey joked she would "snog Dappy" and "avoid Lee" (Channel 5)

When she was chatting to Ollie and Sam, Casey was in a somber mood as she reflected: "In a way I wish my Big Brother experience was completely different."
Sam then added: "Can't think like that now, your still here in the final. No offence to Lee but he Lee's not here, you're here. Not matter what happens there's people out there that can associate with you and have had the same thing that you've had and no matter what's said people have seen that you did like him. It wasn't just a showmance."
3. Last Chance Saloon
There's nothing like a good Q&A sesh to get all the juicy gossip and that's exactly what the Last Chance Saloon offered us. The celebs were in the firing line, as questions from their fellow housemates and viewers were anonymously presented to them.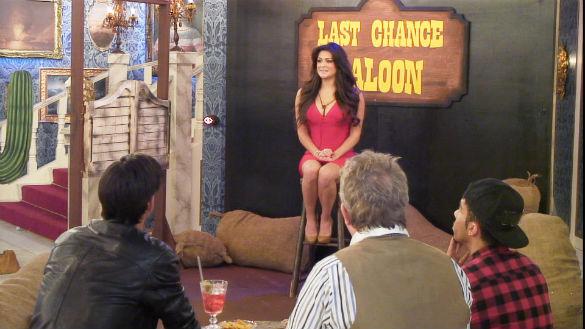 Housemates revealed all in the funny Q&A session (Channel 5)

Kicking things off was Casey, who was asked by Ollie, which male housemates she would snog, marry or avoid in task? The model quickly quipped: "I would marry Ollie, snog Dappy and avoid Lee."
Things went down hill fairly soon, with the queries becoming more and more sexual in nature. Former Apprentice star, Luisa Zissman was anonymously asked by Dappy if she had ever had a "wet dream" imagining giving former housemate and journalist, Liz Jones oral sex. Ms Zissman jokingly replied: "Yes!" before adding, "sorry, Liz!"
It wasn't all fun and games though. Jim Davidson was asked what winning the Channel 5 series would mean to him and the comedian decided not to avoid the question with a joke. The 60-year-old, who last year was accused of sexual offenses following the Jimmy Savile investigations, admitted that being named the victor would make up for the "s**t year" he'd had.
4. Ollie has "turned" Dappy?
He might have made a name for himself as being a gangster as one part of the musical trio, N-Dubz, but according to Ollie, Dappy is "terribly camp". The Made In Chelsea nice guy revealed to Big Brother that he has "turned" the pint sized music producer.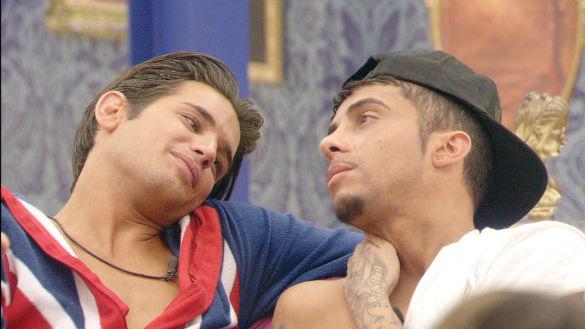 Ollie working his magic on Dappy (Channel 5)

Talking in the Diary Room the 27-year-old said: "I think I've turned Dappy terribly camp. I don't know where this has come from."
The handsome Chelsea man then confessed that Dappy has been after his under eye concealer as he said: "He slyly asks for makeup have you noticed that? But he doesn't ask for makeup he asks for magic."
Will we see a new, possibly more orange and bright eyed, Dappy after his time in the Big Brother house is up?
5. Rappy Dappy
Speaking of Dappy, real name Costadinos Contostavlos, the 26- year-old had a secret mission to show off his rapping capabilties. To successfully win desirable items for his fellow housemates, Dappy must freestyle rap without letting them realise what he's up to.
The Greek-Cypriot lad managed to win ice cream, spotted dick, chocolates and clotted creams by rapping about the sugary treats to Ollie and Luisa.
What a sweetie.
- Advertisement -