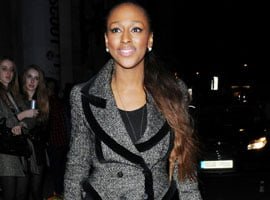 Photo: WENN
She had enough talent to win the X Factor back in 2008, but unfortunately Alexandra Burke didn't have the talent to judge on the show that made her famous.
Having stepped in for a ill Kelly Rowland at the eleventh hour last weekend, the 'Hallelujah' star set about giving her advice to the hopefuls, much to the entertainmentwise.com readers dislike.
Nearly half of you (48.92%) thought Alex's performance as a judge on the show was bad, whilst 36.59% felt the opposite and thought she was good enough to get her back.
And 14.49% of you got thorns in your bums for sitting on the fence because you couldn't decide whether she was good or bad.
Those who didn't take kindly to Alex's appearance on the show can breathe a sigh of relief following the confirmation that Kelly will be back on the show this weekend.
Alex sits alongside Gary Barlow, Tulisa and Louis Walsh…
You can keep up to date with all the latest news from Entertainmentwise by following us on Twitter and liking us on Facebook.