5 Moments That Almost Definitely Won't Be In The Fifty Shades Of Grey Movie (But Should Be)
It's less than a year until the Fifty Shades of Grey movie hits cinemas but with no trailer in sight and rumours that the big screen version of EL James' saucy novel will be kept on a leash, is the movie going to include some of the book's most iconic moments?
When footage was screened for a lucky few at Las Vegas' CinemaCon last month the verdict was slightly disappointing. Instead of the red hot red room scenes and steamy bedroom sessions between stars Jamie Dornan and Dakota Johnson, those who saw the teaser declared it was all very tame.
Even producer Michael De Luca has stated that bringing the book to life will inevitably involve some challenges. "We're very conscious of not making anything gratuitous or exploitative while being faithful to the stories of the book and to the fans of the book," De Luca explained earlier this year.
"We're going to give them what they expect, which is an intense and erotic love story. Obviously the film can't be as explicit as the book. A picture is worth a 1000 words.So to be erotic onscreen means I think an image is going to have way more power than reading the words on a page."
With that in mind, will these Fifty Shades favourites make the cut?
The contract scene
While we've seen photos of Dakota holding the contract as scenes were shot outside an office building in Vancouver last year, is this vital part of the book a little too creepy to delve into in detail? The idea of Ana signing paperwork dictating what Christian can and can't do to her is obviously crucial to the story but we've got a feeling the whole signing yourself over thing might be played down a little.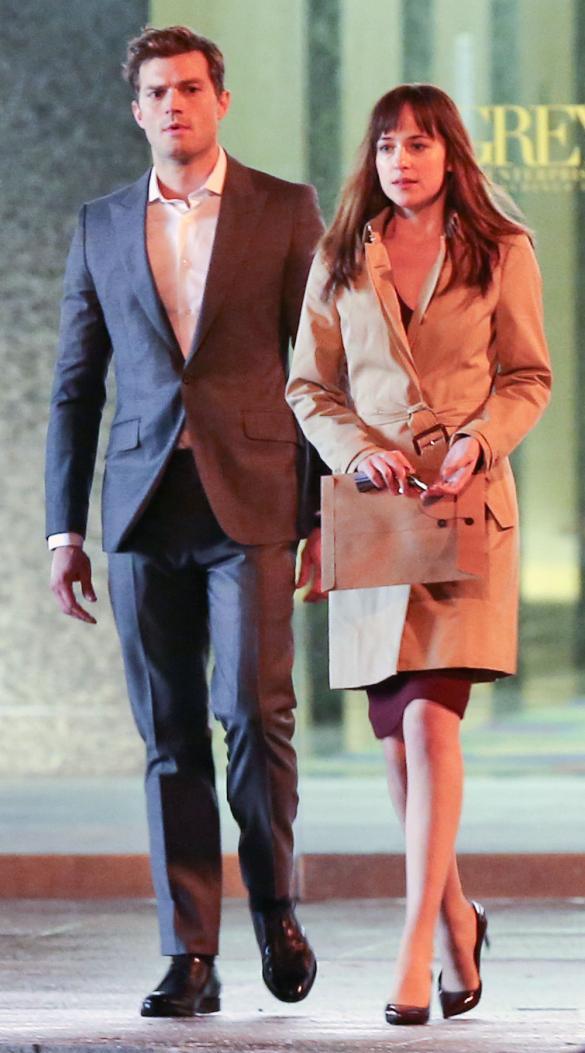 Dakota Johnson carries the contract as she shoots scenes with Jamie Dornan (Splash News)
Ana's inner goddess
James littered her novel with Ana's inner dialogue, but we're not sure if a voice over of Dakota saying lines like these will work as well on screen! "My inner goddess is doing the merengue with some salsa moves". Saucy.
Christian's reveal of his manhood
In one of the most talked about passages in the book Ana has a "Holy cow" reaction to Christian's big reveal – don't expect Jamie to be flashing everything on screen though. Especially if the film's rating is downgraded as rumoured.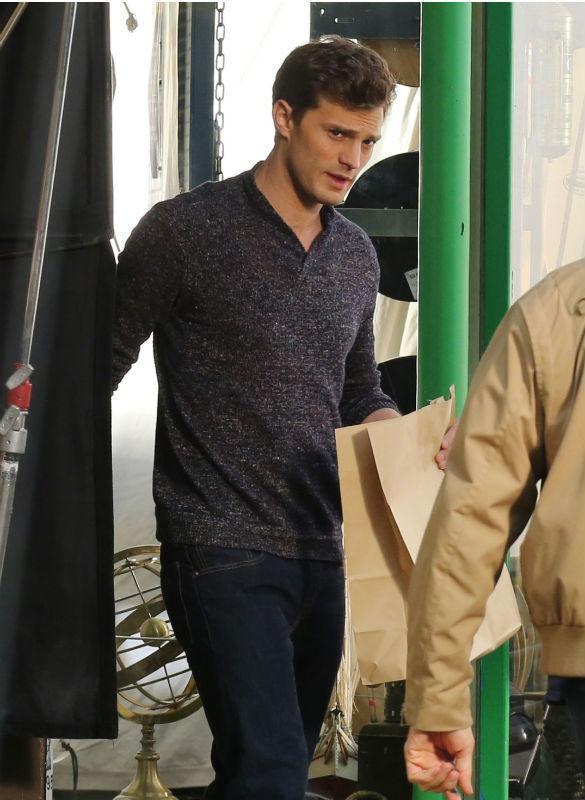 Will Jamie be doing full frontal? (Fame Flynet)
Christian's dirty talk
While we're on the subject of Christian we somehow can't picture brooding hunk Jamie saying lines like these: "I want you to become well acquainted, on first name terms if you will, with my favorite and most cherished part of my body."
"Laters baby" will be in there though, guaranteed.
That tampon scene
No we're not going to describe it, if you've read the book you'll know this is one of the most horrific scenes every written, we're praying it doesn't make an appearance in Sam Taylor Johnson's film.
What Fifty Shades best bits are you hoping to see in the film?