Audible by Amazon has over 200,000 audiobooks in their library and for £7.99 a month you can receive one for free every month. You don't have to be a paid subscriber to have access to their library but each audio book can cost £5, £15 even as much as £30 at a time. But in a time when we can watch unlimited TV and movies from £5.99 a month, do we expect more for our money?
For me, I'd like unlimited access because I can listen to a book in a week whilst I'm walking the dog, or driving and even when there's nothing on the TV.  A standard fiction novel will take around 10 hours, however, if you want a chunky Stephen King novel then it could be as long as 30 hours. Audiobooks in the Harry Potter series can range from 9 hours up to 30 hours per book.
Audiobooks aren't a new thing.  I used to listen to them on tapes when I was younger.  My earliest memory of listening to an audiobook was The Worst Witch by Jill Murphy and read by Miriam Margolyes when I was 10 years old.  There's something comforting about hearing a well-known celebrity reading a good book. Stephen Fry has a narrated a number of audiobooks including the aforementioned Harry Potter series, though if you listened to the US release you'll have heard Jim Dale.
I've also listened to complete series such as Nelson DeMille's John Corey audiobooks and you get used to hearing the same voice narrate, in this case, Scott Brick.  Scott Brick is a prolific narrator having narrated over 600 books.
Here are the best audiobooks I've listened to and would highly recommend to fans of these authors.
11.22.63 – Stephen King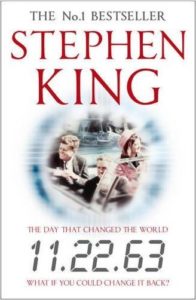 Jake Epping is a high school teacher who is shown a portal that can take him back into 1958 by Al Templeton, a friend and the owner of a local diner. Al wants Jake to go back in time to stop JFK from being assassinated.
This is a chunky book but Stephen King really delves into the possibility of time travel and has very specific rules, which makes it different to every other time travel story around. The audiobook is just shy of 31 hours in length so it may take some time to get through it, but in my experience it time really does fly by. The book was also made into a TV series which I would highly recommend too.
The Girl on the Train – Paula Hawkins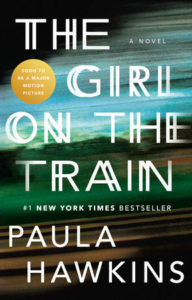 Rachel Watson travels to work on the train every day and passes a row of houses, one of which she used to own with her husband Tom. Tom is now with Anna and living the idyllic life that Rachel always wanted. Another house on the row belongs to Megan Hipwell and her husband, Scott. One day whilst passing, Rachel sees Megan kissing another man, and then in a twist Megan goes missing.
This was the first audiobook that I came across that has 3 separate actresses narrating each of the main characters.  It makes it easier to differentiate between the women, but also each voice holds its own personality trait.
The Girl on the Train won the 2016 Audiobook of the Year in the Audie Awards and was also turned into a movie, also released on 2016.  Though the movie didn't come close to the success that the book had.
Buy The Girl on the Train here
Silent Scream – Angela Marsons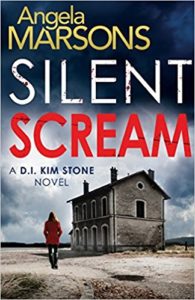 Kim Stone is a no-nonsense, straight-talking Detective Inspector based in the Black Country. DI Stone is faced with the difficult case of a murdered headmistress as well as juggling the investigation into the discovery of remains at a disused children's home. As the bodies pile up she must almost fight her own personal demons, having been pushed between foster homes and children's homes.
This book was originally released digitally and knocked The Girl on the Train off the top spot when it was released. Jan Cramer narrates this very well and it's another great example of a narrator's performance really drawing you into the story and connecting you to the main character.
The Harry Potter Series – J K Rowling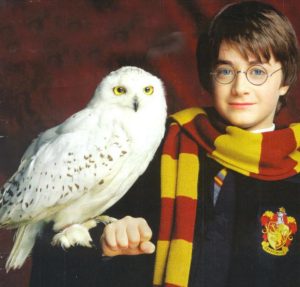 Everybody knows the Harry Potter books and if you don't then you've no business reading an article about audiobooks. These books are on this list because the series has 2 different narrators.  Jim Dale reads for the US market and Stephen Fry reads for the UK market.  Try as I might I couldn't find a reason for this.  Both are English comedic actors and both have an interesting range of voices.
I must admit that I haven't listened to all of the audiobooks, I'm big fan of the movies.  There are plenty of opinions about who is better but having listened to both narrators I have to say that Stephen Fry is by far my favourite.  A lot of the criticism of Stephen Fry is that he doesn't have a huge range of character voices, but I would disagree.
The real problem with an audiobook for the Harry Potter series is that there are so many different characters that really there should be at least 4 narrators.
Buy Harry Potter audiobooks here
The Chimp Paradox – Professor Steve Peters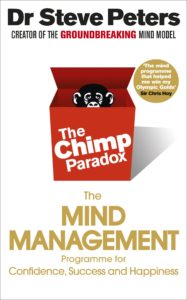 The Chimp Paradox is essentially a self-help book that takes a look inside the human brain and helps you to take a control of the Limbic part of your brain, or The Chimp.
I'm not a great believer in self-help books but this one really struck a chord with me.  In writing this article I've checked my Facebook and Twitter about 20 times as well as watched a Youtube video of some hilarious Family Guy moments.  And that's the Chimp inside my brain.  I get the feeling that my Chimp is much more active and harder to control.  The proof of this is that I still haven't finished the audiobook because my Chimp wants me to listen to a song I've heard a hundred times or finish a fiction audiobook I've started.
Dr Steve Peters has worked with some big names in sport such as Ronnie O'Sullivan, the British Cycling team as well as Liverpool Football Club and the English nation football team. At just 9 hours long, you could finish the audiobook in less than a week if you put your mind to it.
The best audiobooks verdict
So are these the best audiobooks available on Audible today? It's almost impossible to decide which are the best because the choice is huge.  These audiobooks I've chosen are all very good and in their genre, they are very well regarded.
If you have read any of these authors then I cannot recommend the audiobooks highly enough.