It was a gruesome and stomach-churning watch at the beginning of The Walking Dead's new season with favourites Abraham and Glenn having their skulls bashed in by evil Negan.
But, it's a moment that will forever live in many fans' memories.
Primark tried to capitalise on this with a T-shirt with Negan's rhyme and a picture of Lucille – his terrifying barbed wire covered baseball bat.
Negan terrorised his victims with the archaic nursery rhyme – "eeny meeny miny moe" – which was plastered on the white t-shirt.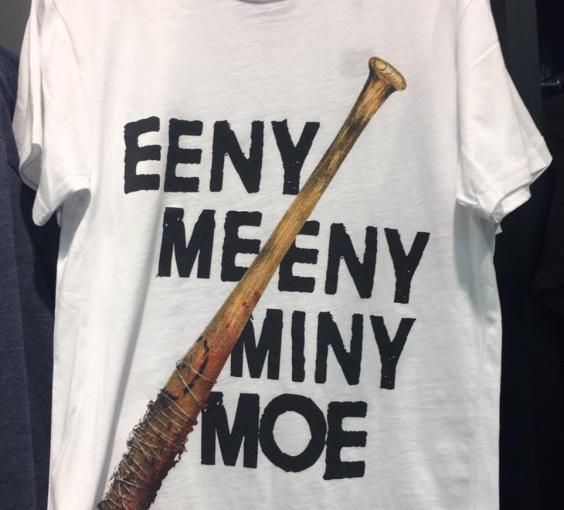 Some of the store's customers were furious as seeing the logo t-shirt owing to an older version of the rhyme which included the racist slur – 'n******' instead of 'tiger'.
According to a report complaints were received by the Primark bosses and they immediately removed the item from sale.
"It was fantastically offensive and I can only assume that no-one in the process of ordering it knew what they were doing or were aware of its subliminal messages," Ian Lucraft told Metro.
"This image relates directly to the practice of assaulting black people in America.
"It is directly threatening of a racist assault, and if I were black and were faced by a wearer I would know just where I stood."
Primark issued a statement apologising for any offence caused.
"The T-shirt in question is licensed merchandise for the US television series The Walking Dead, and the quote and image are taken directly from the show," Primark said.
"Any offence caused by its design was wholly unintentional, and Primark sincerely apologises for this."